The book I've been waiting for finally arrived! After completing my Fantastic Four run earlier in the year, my next focus will be on some Golden Age Superman books, and I'm kicking it off with this one...
Action Comics #53, October 1942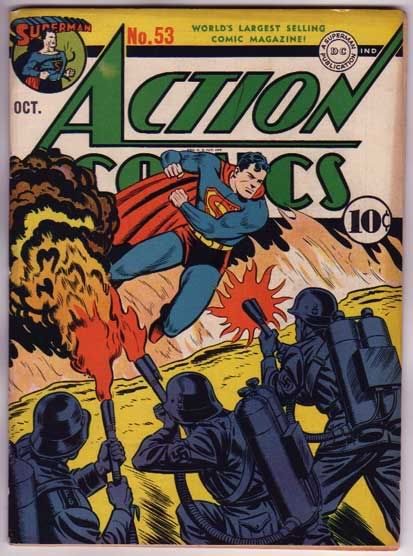 I'm going to concentrate on WWII covers. Typically these books are pricey, but still affordable in midgrades. So, I will look for books in the 4.0 - 7.0 range with nice eye appeal and decent paper quality.
I'm pleased with this book -- even though two small color flecks came off (above the DC logo and behind the soldier's knee on the right edge) as I was carefully examining it. The paper isn't brittle or weak, so this surprised me a bit.
Structurally the book is very sound and it has no creases. It suffers only from minor edgewear, corner wear and light dust shadows on the front and back cover.
I bought this as a Fine (6.0), and I think it's close. What do you think?