I'm going to do something most other comic collectors would not publicly admit -- I'm going to tell you about a comic book I had restored, and show you a pre- and post-restoration images.
It all started a few years ago when I bought a Fantastic Four #1 on eBay. The scan looked decent, the seller had good feedback and I placed a lowball bid and won. I anxiously awaited my prize. When it arrived and I gazed at it through the mylar and I was thrilled. It looked even better than the scan.
The excitement was short-lived however. When I opened the cover, I saw a few dreaded marker bleedthroughs. Yup, it had some amateur restoration.
What to do? The marker touches were small and couldn't be seen from the outside, and
I did
get it relatively inexpensively... it would be very difficult to get a comparable copy for even close to what I paid...
After thinking on it for a few days, the book grew on me and I decided to keep it. Sure, it had a few small marker touches, but it was
my
FF #1. The book was a very clean VG with nothing worse than general wear, some bends, small creases and a corner chip.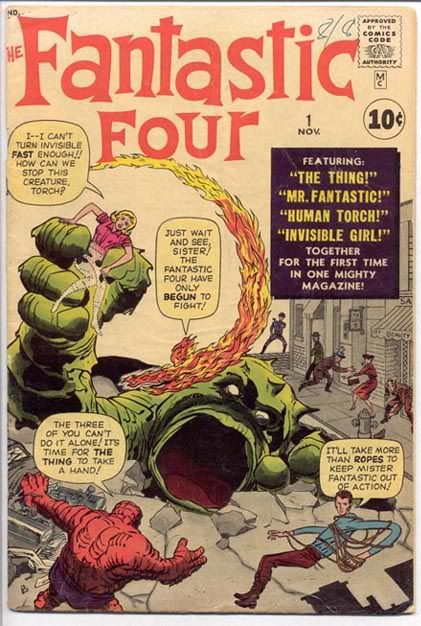 After a year or so I started thinking about having a bit of professional work done on it. Heck, technically it was already restored, why not make it a bit better with a professional touch-up? The book had no major flaws, and most of the bends didn't break color -- it might benefit greatly from some minor work. So, I sent it
Matt Nelson
and instructed him to evaluate it for what could be done to improve the book as much as possible, yet keep it within the "Slight" restoration designation. Matt suggested a cleaning, press, fill to replace a small corner chip and a tiny bit of color touch.
I got the book back today, and here it is:
The major difference is in whiteness and brightness. The cleaning made a huge difference and actually enhanced the glossiness as well. The pressing made a significant difference as well. The only downside is that the cleaning made some of the original marker touches bleed a bit, and the bleeding is actually more visible on the inside of the front cover. (It is not significant, but it is more apparent than before.)
Now, I would say the book is a Fine- (5.5).
Here Matt's breakdown of the work done.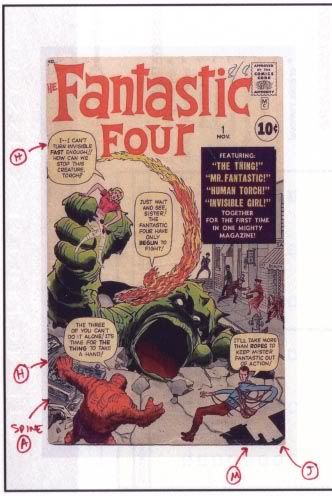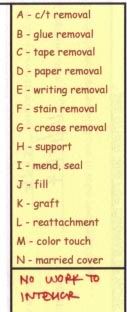 And a side by side slice for comparison:


For a modest fee, slight restoration increased the condition of this book at least a full point in my opinion. Best of all, my book is still 99.5% original parts.
I tell my story not to try to convince anyone that restoration is the way to go for them, but rather hopefully this will educate some about the benefits of restoration and demonstrate that restored books are not necessarily cobbled together "Frankenbooks." "Restoration" may be a dirty word in today's collecting market, but I predict there will come a day when restored books -- especially those with slight restoration -- will lose the stigma and assume their rightful place in the hobby.