I attended the
UACC National Show
in Secaucus, NJ this past weekend. The show promised a good lineup of guests and I was looking forward to seeing many on my online buddies from around the country.
The show was held in the Exhibition Center of the Meadowlands Crowne Plaza. I've been in this room many times for other events, so I knew it would be hot. The room is always hot and the 100+ temperatures outside didn't help. Even industrial sized fans could barely help the weak air conditioning.
My plan was to get several signatures on my Saturn V wooden model and the SpaceShip One pilots to sign my new SpaceShip One wooden model. After that, I wanted a few signed photos from the guests and I would browse the dealer tables.
My first stop was with Kier Dullea and Gary Lockwood of 2001: A Space Odyssey. I wanted to add them to a photo previously signed by Arthur C. Clarke. This is a vintage still that I picked up in NYC years ago and was signed by Mr. Clarke in 1999. The Clarke signature and inscription is so nice that I was tempted to leave it as is, but temptation got the better of me and I had the 2 actors add their signatures. Both actors were very friendly.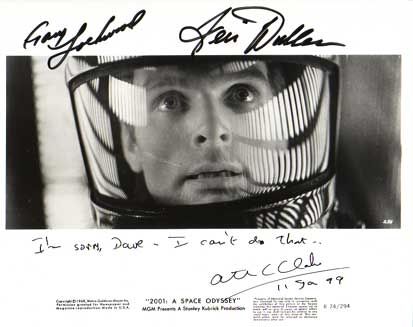 My next stop was at the SpaceShip one table.
I asked Mike Melville and Brian Binnie sign a wooden desktop model. Both were real gentlemen and were a pleasure.
Next, I stopped by Rusty Schweickhart's table (Apollo 9) and had him add his signature to my Saturn V wooden model. It now has a dozen signatures on it, so signing space is getting limited.
After Rusty, Ed Gibson (Skylab), was my next stop. Always a pleasure, Mr. Gibson signed my Saturn V model as well. If I want any additional signatures on this, I may have to start using the base.
I returned to my car to unload the models -- they are a pain to carry around -- and returned to the show to have Valentina Tereshkova (the first woman in space) sign a photo for me. She looks unbelievably young for a 68 year old woman. She looks at least 10 years younger than she is. My regret is that I didn't think to take a photo with her.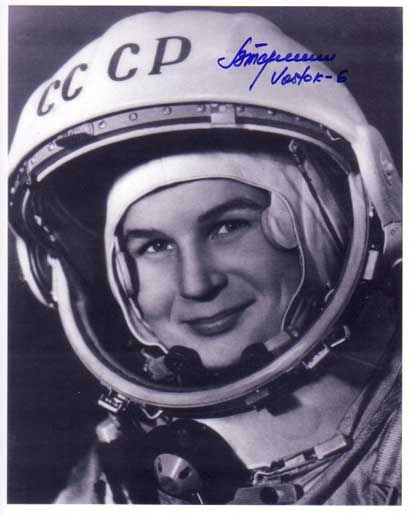 That was it for the in-person signatures. I went upstairs to meet with the UACC Board in a wonderfully air conditioned meeting room. As we had sandwiches for lunch (
Thanks to Al Hallonquist for the invite!
) , Al Wittnebert tossed out a folder full of bargain signed photos... a special for the UACC Officers at the meeting.
I wasted no time picking out this one for $10. An in-person signature from early in A-ROD's career. This could be my bargain on the year.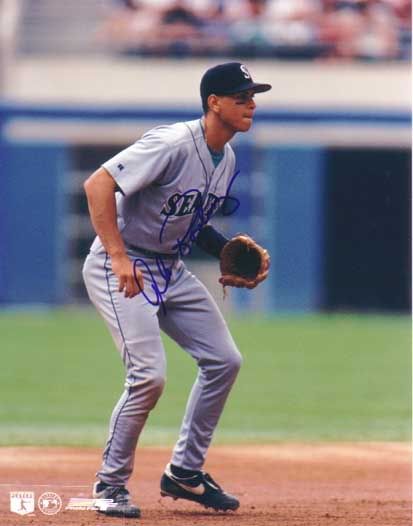 After the meeting, I wanted to hit the dealer tables. I did a lot of browsing, but (thankfully) no big items caught my interest. I was thrilled to pick up this beauty from my favorite TV show for $10...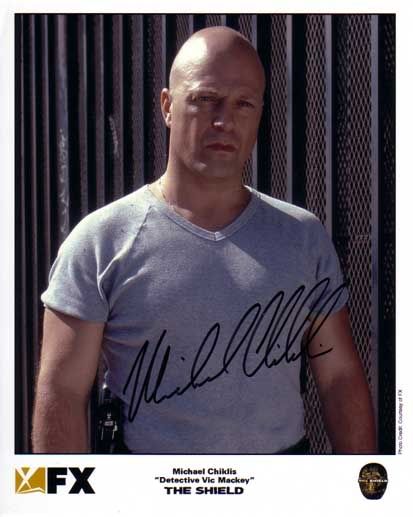 Most importantly, I did get to say hello to lots of listpeople we all know: Al Hallonquist, Bob Russo, Steve Gruber, Kevin Taylor, Bill Owenby, Bob Glass, Sam Stein, Steve Hankow, Tracey Kornfeld, Mint Montague, Carrie in the blue flightsuit, Doug Henry, Rob Pearlman, Andy McCully & Lauren, Linn LeBlanc, Eddie Bizbub, and I know I am forgetting at least 3 or 4 more. (Sorry) I did enjoy meeting everyone I spoke with.
Overall, kudos to the UACC, Steve Hankow and Nolan Sims for putting on a great event.